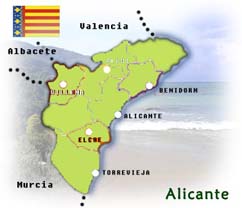 Learn here about Alicante intricate yet compelling history.
Culture & the Arts
From fiery festivals to award-winning museums and jaw-dropping architecture, don't hesitate to get your feet wet- to discover all there is to see. Read more
Trips from Alicante
Why not prolong your stay in Alicante and take a trip? Read more
Alicante, the second most important city of the Autonomous Community of Valencia, is a heavenly seaside town with a magic charm to it: whether you want to spend a relaxed beach vacation, or want to go for a more cultural escape, Alicante offers the best of both worlds.
How to Use this Guide
We want to provide you with all the essential information for a trip to Alicante. From the stuff that you need to know before your departure, which you can find in Planning Your Trip, to the best things to do once you're here in Out & About.
As well as the basics we've thrown in a few extras such as a History section and a Culture section to allow you to know a bit more about this charming Mediterranean city.