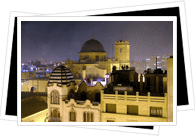 Introduction
Part of the Valencian community, Elche city has a vibrant atmosphere and tranquil outskirts which make it a wonderful stop off point during your travels around Alicante
Roll up, roll up it's the Main Event
Its main attraction is the Misteri D'elx (Mystery Elx). This medieval drama is dedicated to the assumption of the Virgin Mary. Though if you're planning on putting away some popcorn whilst watching you may have to settle for pomegranates, as 85% of Spain's supply comes from Elche.
Other refreshing sights
Elche is a town that of great contrasts, as it both keeps up with modern society while also being home to several archaeological finds. The Lady of Elche, for example, is a very popular piece originally found in 1897 at L'alcudia and now displayed in Madrid. This piece originally dated back to Iberian times- it has certainly stood the test of time! Many theories have attempted to unearth its purpose; some suggest it was used as an urn due to the aperture on the back. Another fascinating part of Elche City and its history is the Calahorra tower, the last relic of the old city walls. It acts as testament to the quality of the buildings structures.
Another fascinating aspect of Elche City to discover are their Arab Baths but before you run to the nearest restroom to get on your speedos, it is sadly a tour. At around 10 minutes long, this tour shows you around the once popular baths as it served as cleansing of those preparing for religious prayer.