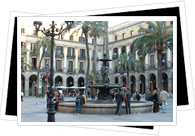 Introduction
Boasting a rich history founded in the 1st century Barcelona has an abundance of entertainment ready for you. With a variety of transport options for you to enjoy a relaxed journey at a reasonable price.
Museums
One thing that can be said about Barcelona is the diversity of their museums and the way it will entice you to seek knowledge that at the same time is aesthetically pleasing. Unlike Alicante, Barcelona has some unique but strange themes for their museums, an example of this is
Museu de la xocolate
(Yes that translates to the museum of chocolate..your new favourite?) Another great choice though with no chocolate is
Expiatori de la Sagrada Famila
, simply a magnificent display of sheer artistic creativity and bravado of the construction of a Roman Catholic church. Builders are working relentlesly to have it finished in 2026 with it being started in 1882! Finally football fans be aware, whether you are a loyal fan or just a curiosity is blooming, FC Barcelona have a museum and you shouldn't miss out.
Park Life and sights
Ciutadella park is a attractive labyrinth that has the Catalan parliament within it, with numerous activities like the Barcelona Zoo home to "snowflake" the albino gorilla and a delightful lake to enjoy a trip down. It has many a photo opportunity so get yourself down here and reside in the tranquility. Not a park persay, though an incredible display is the Barcelona Magic fountain, if the bubbles in your new jacuzzi just don't give you the same kick anymore then this will revive you like a child going to disneyland. A real fan favourite it sets off a complicated fusion of multicolour jet fountains creating a spectical for all. La Rambla one of the most famous streets in Spain with a flawless charm, It has an impressive array of markets and cafes to endulge with the Gran teatre del liceu.
Sport
Although the football is impressive in Alicante, Barcelona has an elite team and it goes without saying the first stop for the majority will be a tour of Camp Nou of Barcelona FC of La Liga, whether you get the chance for a tour or if your lucky catch it on a game day both will be sure to fulfil your excitement. If you prefer your sports with a bit more speed then no problem F1 (Formula one) is here to help. At the stunning Circuit de Catalunya about 30 minutes from the barcelona centre in Montruelo.
Bargain hunter
Finally a word about the markets, you have the famous Mercat de Sant Josep off La Rambla to cater to all of your needs, looking to take a bit of the artistic culture home? If so then head down to Mercadillo de la placa de Sant Josep.