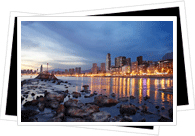 Introduction
You have probably heard a fair bit about Benidorm to begin with, it has gone through a quite interesting change over the last few decades. Starting as a quiet village in the 1960's it has now become one of the most popular destinations around Spain. If you're looking for a quieter time (as Benidorm is generally known for its crowds) then plan your trip around winter. Transport is easy and plentiful, as Alicante and Benidorm are quite close to one another.
Natural Wonders
No matter what your preference is you'll be sure to find something to keep you entertained with a wide selection of day trips. For a taste of a real tropic wonder head to Algar Falls with its stunning combination of waterfalls (that you can have a dip in) and alluring scenery to sugar coat your day. Another natural gem is the Canelobre caves with a huge deposit of minerals stretching between Alicante and Benidorm. There is a terrific set of beaches that stretch across the coast, all of which are blue flag approved (first-rate standard) named Levante, Poniente and Malpas.
Theme Parks
Now the theme parks. First on the list is Terra Mitica, which has an interesting theme that splits into five different sections, each of which represents a particular civilisation: Egypt, Greece, Iberia, Rome and the Islands. With fun for whole the family and quite reasonable prices (21 - 38 euro depending on the time of day). If you're looking to show off the new beach body then check out Aqualandia, the popular water theme park has an abundance of slides (some big ones!) and places to kick back with swimming pools that are slightly more relaxed.
Golf
Have the irons and woods ready as there are a number of golf clubs in the surrounding area you can run a quick 18 on. First on the list is Real de Faula club de golf. This top range course is next to a five star hotel so if you're looking for the complete package look no further. If you're looking for that last minute deal don't worry, as you can still get yourself involved! If you're feeling a bit of practise wouldn't go a miss, make your way down to Las Rejas, a pitch and putt which still holds its own in the challenge it poses; it's a great place to take out the kids and get them initiated into the world of golf.
Markets
If shopping is right down your alley then be sure to head down to the Benidorm indoor market. Offering you the best prices on items such as jewellery and leather goods, it will also offer you a good price on all the particular items you'd pack to the brim at the duty free, for example cigarettes and alcohol. In any case, whatever you're looking for it will be an enjoyable day that will present a bargain or two.