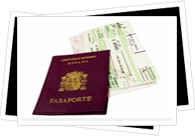 Spain forms part of the European Union; in other words, it is a member of the "Schengen Convention." Any legal resident from a Schengen country, plus citizens of the UK, Ireland, Iceland & Norway, do not need a visa to enter the country.
If you are from a member-country of the Schengen agreement - Austria, Belgium, the Czech Republic, Denmark, Estonia, Finland, France, Germany, Greece, Hungary, Italy, Latvia, Lithuania, Luxembourg, Malta, the Netherlands, Poland, Portugal, Slovakia, Slovenia, Spain, Sweden, plus Iceland and Norway (which are not EU members)- you do not need a passport to enter Spain. An official national ID card will suffice.
Citizens from EU countries that do not form part of the Schengen agreement must carry a valid passport to enter Spain. No visa is necessary though. These are the UK and Ireland, as well as new members of the EU that do not yet participate in Schengen are Cyprus (joined in 2004) and Bulgaria and Romania (joined in 2007).
Citizens of many other countries do not need a visa to enter for a stay of less than 90 days: Australia, Canada, Israel, Japan, New Zealand and the US are among them. If you are planning on staying for longer than 90 days, you must check with the Spanish consulate nearest you.
Student visas are not that difficult to obtain, provided that your program provides the necessary paperwork. Even in this case, however, you can plan on the process taking at least a month. (Spanish bureaucracy can be frustrating, to say the least). In order to work in Spain it is necessary to have an official offer from a company in Spain. These types of visas are not easy to get for non-EU citizens.
Any member of a country not mentioned above should check their local consulate for visa requirements.
Most countries' Spanish embassies are located in Madrid, however many have consulates in either Alicante or nearby Valencia. Here is a list of some of them:
Country
Consulate Address
Phone
Belgium
Catedrático Soler, 10
Alicante
Tel: 965 92 91 47
Dominican Republic
Angel Lozano, 13 4°Izda
Alicante
Tel. 965 14 13 52
El Salvador
Cirilo Amoros, 53
Valencia
Tel. 963 52 70 58
Finland

Vikingos,4
Benidorm
Tel. 965 85 35 99
France
Arquitecto Morell, 8
Alicante
Tel. 965 92 18 36
Germany
Avenida Marqués de Sotelo,3, 6°, 13C
Valencia
Tel. 963 10 62 53
Greece
Ramón y Cajal, 63-23
Valencia

Tel. 963 85 80 24
Holland
Castaños, 29
Alicante
Tel. 965 21 21 75
Italy
Pintor Aparicio, 34
Alicante
Tel. 965 92 60 48
Mexico
Paseo Dr. Gadea, 9 Entlo.
Alicante
Tel. 965 22 93 14
Morocco
Duque de Zaragoza, 4 - 5°Dcha
Alicante
Tel. 965 21 85 20
Norway
Explanada de España, 29
Alicante
Tel. 965 21 82 90
Philippines
Cronista Carreres, 9 4°
Valencia
Tel. 963 94 29 16
Sweden
Explanada de España, 29
Alicante
Tel. 965 21 83 00
Switzerland
G.V. Marqés del Turia, 38-10
Valencia
Tel. 963 33 37 22
United Kingdom
Calvo Sotelo, 1
Alicante
Tel. 965 21 60 22
United States
Paz, 27
Valencia
Tel. 963 51 69 73