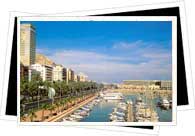 What to expect:
Whether you're searching for a cheap youth hostel, thinking about renting an apartment for a few weeks, or ready to book a room at the snazziest hotel in the city, your accommodation possibilities in Alicante are infinite.
Here's a couple of tips to keep in mind: If you're looking to save a pretty penny, travelling with others is a good way to start- renting a room on your own will inevitably cost more than splitting the cost between two or three people. Plus, in some "albergues" and youth hostels you can sometimes get a discount for renting out several rooms. Also, if you're heading to Alicante during its big festivals- Las Hogueras, for example- prices will climb and rooms could be hard to find. So if possible, arrange your accommodation beforehand- as fun as Las Hogueras is, it's not fun to clamor around town with your suitcase looking for a room!
Many Alicante hotels and hostels include a breakfast of the continental variety- in other words, coffee, juice, and pastries. However, if your hotel or hostel leaves you either without breakfast or still feeling hungry, just venture outside- there's sure to be a wide range of cafés nearby!
Learn more about your Alicante accommodation options:
-Alicante Hostels
-Alicante Hotels
-Alicante Apartments