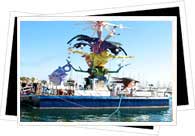 When:
On June 20, a palm-shaped firework launches into the air to mark the beginning of Las Hogueras de San Juan, a festival that doesn't simmer down until June 24.
Where:
From the narrow alleyways of El Barrio right down to the beaches, the entire city of Alicante gears up in a big way for this annual fiesta.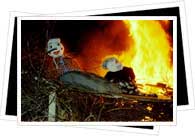 Run Down:
The festival of Las Hogueras (Bonfires) got its humble start centuries ago as a pagan celebration marking June 21, the longest day of the year. Households said a cheery "adios" to another winter by gathering and then burning piles of old furniture and junk collected during massive post-winter cleaning. The religious undertones, such as the festival's dedication to San Juan (Saint John), came later on as an afterthought when the ultra-Catholic Spanish monarchy decided it wasn't too fond of the celebration's pagan origins.
Today's festival, which has been celebrated in its present form since 1928, launches into action along with the launch of the inaugural palmera (palm tree) firework from the Castillo de Santa Bárbara. Throughout Alicante, the 88 hogueras- ornate wood and paper maché works of art have replaced the simple piles of junk- burst into flames one by one in a pyrotechnic display comparable to that of Valencia's Las Fallas celebration.
Although the fiery hogueras eventually die down - nowadays thanks to the firemen - the party continues throughout Alicante for several days and nights. Rockets blast off, balloons float through the air, parades snake through the streets, partying livens up the streets, smaller "hogueras" illuminate the beach and nightly fireworks festively brighten the sky at midnight. There is also a competition to elect the year's Belleza del Fuego (Beauty of the Fire), who then serves as the festival's queen along with her six ladies of honor.