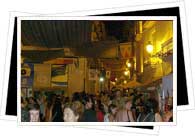 With the amount of shops and markets to browse through, shopping could almost beat out football as Spain's national sport. Alicante, needless to say, is no exception. From regional goods to designer clothing, from sidewalk markets to busy commercial centers, and from fresh fruit to medieval handicrafts, that urge to shop-til-you-drop will be tough to control!
Local Handicrafts
While it's always tempting to hit up the souvenier shops for tee shirts, stacks of postcards that you'll never send and a variety of other "Spanish" knick-knacks, why not go home with some of the genuine local goods. Alicante and its surrounding towns are known for a wide range of handicrafts. Buy beautiful hand-crafted ceramics from Agost, bags and wicker baskets from Gata de Gorgos, and woven rugs from Crevillente. Another local specialty is a "botijo," an earthenware jug traditionally meant for drinking. Other local products to add to your shopping list are leather goods, small mosaics, wines, and Alicante's famed turrones (sweet almond nougat).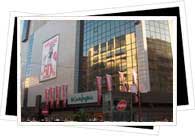 Where to Shop
Whether you want to leisurely peruse specialty shops or make a one-stop shopping massacre at El Corte Inglés, Spain's enormous department store chain, don't fret about finding great shopping- it's everywhere! The main streets Rambla de Méndez Núñez and the Avenida Maisonnave, as well as the wealth streets branching off of them, are the most notorious shopping areas featuring designer clothes, major stores, El Corte Inglés, and much more. Head to El Barrio, Alicante's old quarter, for winding streets chock-full of small stores- Calle Mayor is a good place to start. For your more modern commercial center shopping experience, head east of the port. Panoramis- Alicante's shopping mall- has all of the best Spanish and European stores as well as cafés, bars, and movie theaters.
El Corte Ingles
-Avda. Maisonnave, 53 (Clothing, Supermarket, Sports, etc.)
-c/ Castelar, 3 (Technology, Televisions, Phones, Cameras, etc.)
-Avda. Federico Soto, 1 & 3 (Furniture, Home Goods, Books, CD's, etc.)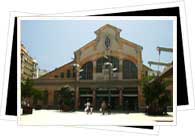 Markets
The highlight of Alicante's market scene is without a doubt its annual Mercado Medieval which features medieval handicrafts, entertainment, and costumes. The city's Mercado Central (Central Market) is also an Alicante shopping classic- it's a lively two-floor market chock full of fresh fruit, shellfish, meat, flowers, and anything else you could possibly imagine. Just behind the Mercado Central you'll stumble across an informal flower seller's square- an ideal place to plunk down on a bench, smell the flowers and, of course, people watch. Finally, during the summer there's a multi-purpose, hippie-style market on the Explanada de España full of anything from clothing and jewelry to forks and knives. During the winter, this entertaining market relocates to the nearby Paseo del Doctor Gadea.