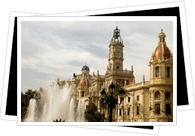 Introduction
Meaning strength in Latin, Valencia certainly upholds its meaning by going from strength to strength throughout the years. It is the third largest city in Spain meaning theres lots for you to do! It's an extremely pouplar destination for tourism and its claim to fame is being the home of paella.
So much to do, so little time!
You will notice that if you're spending a few days in Valencia you will have a lot of choice to decide what you want to do and visit. One of the most influential museums is the City of the Arts and the Sciences, a huge complex of individual buildings that create an incredible experience for those visiting. Boasting several activities to keep you occupied, such as an Imax cinema, an aquarium and an interactive science building. Another unique visit - and a great one for the kids - is the Valencian history museum; it steers away from the norm of simple displays and gets you to interact with the history. It tells the story of Valencia's history through recreation and high tech CGI. The museum of Ethnology (Analysis of humans) will quench your thirst for knowledge with a vast array of displays and information to help you understand your fellow man.
Beaches
If you're thinking about heading to the beach then the Playa del Malvarossa is just what you're looking for. This beautiful and popular beach is a great spot to spend your time worshipping the sun gods for that invaluable tan. Another blue flag rated beach is El Saler with its crystal blue water and sand that brings perfection to mind.
Shopping
If your looking to do a bit of shopping then take your pick from a brillant variety available, though a good starting point is El Rastro, a street market with many a bargain to be found it certainly has a abundance of rather interesting items. If your looking for a taste of Valencia then check out Mercado Central, fresh and delicious are the key words here, one of the oldest markets in europe for a good reason it never fails to impress!
If you fancy getting involved in a bit of exercise then look no further than the Jardin Del Turia, it has a huge range of sporting facilities such as a running track, baseball pitch, skateboarding area and jogging paths.