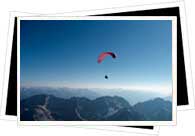 With perfect weather all year long, mountainous landscapes and, of course, the Mediterranean Sea, Alicante is a great place to spend some time in the great outdoors. Whether your idea of an adrenalin rush is taking a quick bike ride, or perhaps jumping out of a plane, there are infinite possibilities for exploring explore Alicante- be it by land, by sea, or by air!
Skydiving & Paragliding
Not many things get the heart pumping like a good old-fashioned plummet from an airplane! If you'd rather stunning Alicante landscape but without necessarily testing the force of gravity, paragliding is another fantastic possiblity. Luckily for you, the Alicante province has several companies specializing in both activities- Paraclub Alicante and Turismo Activo are just two of such companies boasting great reputations and tons of options.
Paraclub Alicante
c/ Alfonso Guixot Guixot, 1 ESC. 1 2 E
Alicante
Tlf: 965 25 84 26
Turismo Activo World Adventures
c/ Juan Gris, 2 local 1
Alfaz del Pi, Alicante
Tlf: 699 43 58 82
Other Outdoor Activities in Alicante
-Hike in Alicante
-Bike in Alicante
-Jog in Alicante
-Water Sports in Alicante