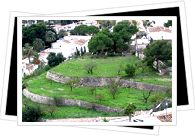 Altea, Spain makes a perfect excursion from Alicante and is so pretty you may want to stay a few days! Home to a small resort, Altea is well facilitated for tourists but has successfully avoided being hit by heavy urbanisation. The little town has retained its charm as a coastal fishing village, which continues to be an important industry in Altea.
You will find great pleasure in just wandering around Altea's pretty winding stone streets and admiring the whitewashed houses which are adorned with colourful flowers. The old part of the town really is picture perfect and many people find this a great place to relax and de-stress.
The Iglesia de Nuestra Señora de Consuelo is a focal point in the town, memorable for its blue tiled domed roof. In the summer months the other hotspot is down by the harbour where the streets are lined with bars and restaurants and the atmosphere is chilled and addictive.
Altea, Spain offers the visitor a wonderfully balanced blend of tranquility and liveliness making it the perfect destination to unwind and enjoy life.