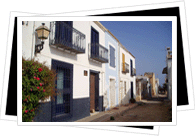 Tabarca is a beautiful rocky island which makes a perfect day trip from Alicante. The island is officially considered as part of Alicante and lies only 11 miles southeast of the city, making it easily reachable by boat in just under an hour.
On Tabarca natural beauty abounds and buildings are kept low and unobstrusive. Whilst the main economy is tourism, which is hugely popular in the summer months, Tabarca's mild climate and crystal clear waters make it a lovely place to visit at any time of year.
Tabarca was the first official Marine Reserve in Spain and protects over 1400 hectares of marine life including a beautiful flowering sea plant. For this reason fishing is restricted on the island, although professional sport fishing is possible. While in Tabarca it is worth sampling some of the delicious fresh seafood available from the cluster of shoreside restaurants.
There are also several points of architectural interest on the island. These include the pretty baroque Iglesia de San Pedro y San Pablo and the remains of the wall which was built to protect the city. The tower of Saint Joseph to the northeast of the city is another interesting landmark, measuring 27.5 metres in height.
Or then again, there's always the simple pleasure of just wandering along Tabarca's stunning rocky beaches and admiring the sparkling sea views, which is an unbeatable way to spend an afternoon.