Highlights:
-DIPUTACIÓN PROVINCIAL (Provincial Delegation Building)
-PLAZA DE LOS LUCEROS
-CASTILLO DE SAN FERNANDO
-MERCADO CENTRAL
-CASA DE LAS BRUJAS (Witches' House)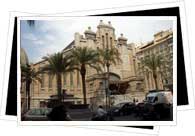 It may be a small city, but Alicante boasts not one, but two castles! The Castillo de San Fernando is the lesser known of the two, constructed in the 19th century with hopes of fending off Napoleon's advancing army. Now serving primarily as a local recreation site, it isn't quite as impressive as the Castillo de Santa Bárbara, but don't skip it- the castle definitely has a few features that make it worth a stop.
Modernist architecture certainly makes a home for itself the area beyond the Rambla de Méndez Núñez. Check out the busy Plaza de los Luceros, a large plaza west of the Rambla de Méndez Núñez, whose highlight is the impressive 1930's modernist fountain dominating its center. Not too far away is the genuinely unique Casa de las Brujas (Witches' House), built in 1911 and now housing one of the Valencian government's headquarters. It's infinitely interesting to look at and a perfect example of modernist and art nouveau architecture.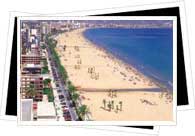 Also worth a stop is the Diputación Provincial, a stunning early 20th century building; as an extra to the package, this government building happens to also house a suprisingly enjoyable art gallery. Finally, the Mercado Central (Central Market) is a classic stop on any Alicante tourism agenda. This lively two-floor market is nothing like the image of tents and simple fruit stands that you might be imagining- instead, shop for the freshest of everything from flowers to shellfish in this historical and architecturally fascinating marketplace dating back to the beginning of the 20th century.