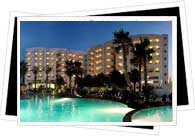 Where to Look:
As a favorite destination for both national and international visitors, Alicante is home to a multitude of hotels ranging from quaint hidden hotels to high-rise luxury suites. Researching and deciding upon just one of the batch of hotels vying for your attention can turn out to be quite the daunting task, but don't fret. Slow down, think about what type of accommodation you want, and decide whereabouts in Alicante you'd like to stay. Now that the options are whittled down considerably decision-making should be a cinch!
Alicante's main hotel zones are the harbor, El Barrio, and the Playa de San Juan. Around the harbor you'll find many high quality hotels- in fact, some of the city's best are situated here. Apart from their top-notch accommodations, hotels here have the advantage of being close to everything- the port, the beach, El Barrio, the Explanada, etc. Of course, such benefits tend to come at a hefty price.
El Barrio, Alicante's lively historic quarter, is a popular area to stay in- vibrant, colorful, and brimming with cultural points of interest, it's where you'll be spending the bulk of your time anyway. The winding streets are chock-full of a wide range of historic buildings-turned-hotels ranging from the most basic to the most extravagant.
Finally, the Playa de San Juan, located along the coast just a few kilometers north of Alicante, is Alicante's most famous beach. Whether you're looking for an all-inclusive resort or simply a room to leave your belongings in while you soak up rays, along the beach you'll find tons of possibilities.