If you're a lover of the skies, you can get to and from Alicante from not one but two airports! Its own airport, El Altet is of course the closest and most convenient. If nobody is waiting for you at El Altet, traversing the 11 kilometers between the city and its airport boils down to essentially two options: the bus or a taxi. Taxis are sure to be waiting in great numbers just outside the exit door- a taxi ride will probably cost you between €15 and €30, but the advantage is a quick arrival right to your doorstep.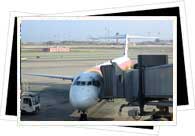 If you opt for the airport bus, here are the basics:
-The airport is one of the stops of the C-6 bus line.
-It's certainly the cheapest way to get to the city center!
-The bus does run on a schedule which you'll find posted, however it essentially comes by the airport every 30-45 minutes.
Aeropuerto Internacional El Altet
Tlf: 966 91 90 00
Tlf: 966 91 91 00 (Information)
Common Spanish Destinations: Madrid, Barcelona, Palma de Mallorca
Common International Destinations: United Kingdom, Germany, Holland