Highlights:
-EXPLANADA DE ESPAÑA (Esplanade of Spain)
-PUERTO (Port)
-CASINO DE ALICANTE (Alicante Casino)
-CASA CARBONELL (Carbonell House)
-CASA LAMAIGNERE (Lamaignere House)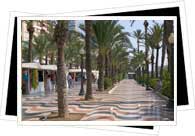 The marble-tiled Explanada, along with the Castillo de Santa Bárbara, is without a doubt one of Alicante's most emblematic landmarks and the backbone of the city's exuberante culture. Running right alongside the picturesque harbor, it's an absolute must on Alicante's tourism trail- in fact, you'll probably find yourself there a few times as the colorful walk, the harbor views and the tropical palm trees effortlessly attract locals and tourists alike!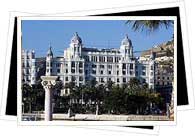 Located just steps from this charming promenade are a few other stops that you can hit up while in the area. If you're feeling lucky take your chances, but even if you're not exactly risk gambling away your trip savings, head into the Casino for a glimpse. The spectacular 19th century frescoes decorating its Salón Imperio (Empire Room) make it well worth a visit.
During the early years of the 20th century, a series of majestic palatial buildings were constructed right by the harbor. From the Explanada you can see the majestic Casa Carbonell, built in 1924, and just beyond that the Casa Lamaignere of equally stunning architecture.