Highlights:
-CASTILLO DE SANTA BÁRBARA (Santa Barbara Castle)
-TORRE DE HOMENAJE (Keep)
-SALÓN FELIPE II (Room of Felipe II)
-PARQUE DE INGENIEROS (Engineers' Barracks)
-CARA DEL MORO (The Moor's Face)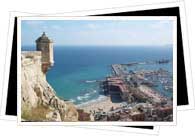 The Castillo de Santa Bárbara is absolutely free to visit. The sprawling structure has everything you could hope to see in a castle- a keep, dungeons, cannons, church ruins, a look-out post and more! You can see the sites, the art exhibitions and the incredible panaramic view of the city and the sea below without so much as opening your wallet- if you walk or drive up, that is. The easiest way to get to the top of Mount Benacantil is via the lift (€ 2.40) that was built straight up through the rocky mountain, located opposite the Postiguet beach.
While you're up there, be sure to keep your eyes peeled for another of Alicante's city emblems: the Cara del Moro, a huge rock formation that cannily resembles a face!