Situated just beyond the lapping waters of the Mediterranean Sea, Alicante boasts the best of two distinct worlds in being both major city and beach town. Golden sand, tranquil waters and a plethora of water sports make the beaches in Alicante- just steps away from the city- seem a world away from the busy center. The most popular of the beaches is the Postiguet Beach, but don't rule out the southern Alicante beach of Saladares-Urbanova.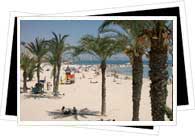 Postiguet Beach
Located at the foot of the Castillo de Santa Bárbara, the 900 meter stretch of golden sand and tranquil waters composing the city's Postiguet Beach is just steps away. The beach is a quick walk from pretty much any part of Alicante, but the bus system as well as the tram will get you to the beach as well.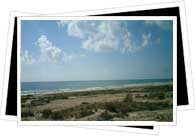 Urbanova - El Saladar
Hop on the bus towards the 1600 meters of the Urbanova - El Saladar Beach. Located in a residential neighborhood in the southernmost part of Alicante, the beach is removed from both Alicante's center and its tourism, giving it a slightly more laid-back vibe.