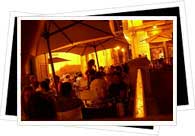 Whether you want to spend the evening in one atmospheric "bar de copas"- basically not just a bar but not yet a nightclub- or test out the scene bar-hopping, a night out on the town in Alicante never disappoints. For a sure-fire great time, you'll probably wind up heading to one of three zones jam-packed with lively bars in Alicante: El Barrio, El Puerto, or La Ruta de Madera. Each zone has a totally different character and vibe, so brush up on your possibilities and decide where to go!
El Barrio
El Barrio, Alicante's historic quarter, is a bar-hopper's paradise. In fact, people are so confident about having a good time that they almost never head to El Barrio with a specific place in mind. Especially since the government made a project out of revamping and cleaning up El Barrio's image a few decades ago, the area is jam-packed with bars of all sizes, styles, and vibes. Plus, it's always interesting to go about testing cocktails, as almost every bar has its own tasty specialties. Here are a few popular "bares de copas" in El Barrio:
Jamboree
c/ San José
Known for: A university crowd favorite featuring live blues and jazz.
La Naya
c/ Labradores
Known for: Caribbean drinks like mojitos, caipirinhas, and daiquiris.
El Forat
Plaza de San Faz
Known for: A great rendezvous bar with fun kitsch-style decoration and folk music.
La Misión
c/ Virgen de Belén, 9
Known for: An Alicante classic set in an old three-story house turned cocktail bar.
Nazca
c/ Argensola
Known for: Up-to-date popular music and its view over all of El Barrio.
El Puerto
The area surrounding El Puerto- the port- is the place to be for a evening in the city's more trendy and modern bars. This inevitably means higher prices, but popular music, lively atmosphere, and dance floors keeps the party rolling until the sun comes up. Here are a few of El Puerto's more popular bars:
Potato
Muelle de Levante, 6
Known for: Its music: house and funky.
Capitán Haddock
Pº Puerto de Levante, 6 (Muellede Levante)
Known for: Great package: free to get in, great music, and decorated like a boat!
Ay Carmela
Muelle de Levante, bloque 1 local 3
Known for: Spanish decoration and always throwing a party.
H20
Muelle de Levante, s/n
Known for: Varied selection of live msusic.
La Biblioteca
Centro Comercial Panoramis
Known for: Young, energetic crowd there to have a great time.
La Ruta de Madera
Alicante's famed "Ruta de Madera," or Route of Wood, is essentially a glorified Spain-style pub crawl. Located behind the Avenida Alfonso el Sabio, the group of bars get their nickname from their characteristic wood decoration- think along the lines of the taverns of old western movies. With Alicante's perfect weather year round, bar hopping your way through the Ruta de Madera is a fantastic way to spend a night having fun with friends and listening to live music with a cold brew in your hand. While we recommend any of the atmospheric Ruta de Madera bars, check out the Irish and English pubs as well as the following local favorites:
Clan Cabaret
c/ Capitán Segarra, 16
Known for: Variety of entertainment including jazz, magic, blues and more
La Piedra
c/ García Morato, 20
Known for: Great atmosphere, lots fo energy, and being the only bar on the Ruta with stone.
El Salón
c/ García Morato
Known for: Rock and country concerts
Anti Doto
c/ Manuel Antón, 20
Known for: Typically heavy metal music.