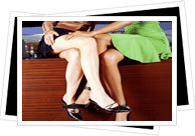 Alicante is home to a friendly and thriving gay and lesbian culture. Alicante has hotels, bars, beaches and more that cater to gays, lesbians and mixed crowds. For fun in the sun, head to La Marina, one of Alicante's beaches known for its friendly, laid-back gay crowd. At night, socialize over drinks at one of the Alicante gay scene's many bars before moving on to dance the night away at one of the numerous nightclubs. There are oodles of locales worth a visit, but here are a few popular haunts to get you started:
El Forat
Plaza Santísima Faz
El Forat, the oldest gay bar in Alicante and certainly one of the most popular, boasts eclectic decoration, great tunes, friendly clientele and a kicked-back bohemian atmosphere.
Enigma
c/ Arquitecto Morell, 23
Spend a stellar evening at this galactic-themed club, featuring great music and a lively all-ages crowd.
Missing
c/ Gravina, 4
With the high energy of a nightclub yet the sociable atmosphere of a bar, drinks and music pull equal weight at this popular dance bar.
Arte y Jaleo
c/ Poeta Quintana, 26
Arte y Jaleo is an atmospheric bar and a popular lesbian locale.
Venial Club
c/ Conde de Soto Ameno
Dance it up to the blasting music at this high-energy gay discoteca.
Divina
c/ Montegón, 7
Featuring primarily Europop music, this mixed-crowd bar-club is always chock-full of fun-loving crowds.
Caníbal Pub
c/ César Elguezábal, 26
For a wild night of drinking, dancing and entertainment, head to Caníbal Pub, where the fun du jour includes elaborate drag and stripper shows.