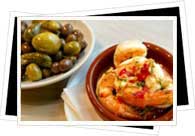 Tapas
Nothing- well, bullfighting and flamenco are up there too- is more Spanish than a night of bar-hopping and tapa-eating. This perfected art of snacking got its humble start long ago when bartenders took to using a piece of bread or a small dish to cover- or "tapar"- their customers' drinks as a means of keeping out pesky flies. As we all know, this simple act has since led to not only the national but the international gastronomic phenomenon that it is today.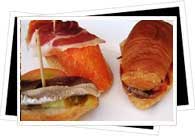 Instead of sitting down for a fancy meal that is sure to make a dent in your wallet, try out Alicante's diverse specialties standing up at a bar with a beer in your hand. The best way to go "de tapeo" is to walk into a bar, order several different plates of tapas, and try them out with a group of friends. If the conversation is lively, pick a new bar and repeat the process as many times as you like!
Typical Alicante Tapas:
Arroz (Anything you see with this word has rice in it.)
Albóndigas de bacalao (Cod meatballs)
Caracoles (Snails)
Mejillones (Mussels)
Lleteroles (Lamb gizzards)
All y pebre de anguilas (Seasoned eel dish)
Esgarrat (Barbecued and seasoned red peppers with cod)
Tortilla española (Classic Spanish potato omelette)
Alicante Tapas Bars
Finding a good tapas bars isn't too tricky- the good ones are full of people! Alicante offers a wide range of locales specializing in this highly developed Spanish phenomonon of snacking. From the creative and modern offerings of locales like Nou Manolín and Piripi to the traditional shellfish fare of Alicante classics like Mesón de Labradores and La Mejillonra, a night de tapeo in Alicante is a gastronomic delight!
Nou Manolín
c/ Villegas, 3
Known for: Modern and creative tapas.
Mesón de Labradores
c/ Labradores, 23
Known for: Classic regional and Spanish tapas.
Piripi
c/ Oscar Esplá, 30
Known for: Stylish, imaginative tapas.
Boutique del Mar
c/ San Fernando, 16
Known for: Fish and shellfish.
La Mejillonera
c/ Rafael Terol
Known for: Old establishment boasting great mussels and other shellfish.
La bodeguita de abajo
c/ Bailen, 4
965 21 94 80
Bodega El Rebujito
c/ Las Navas, 40
965 21 07 96
El Merengue
c/ Alfonso El Sabio, 44
Known for: Its list of 30 different montaditos.
Juanito
c/ Carratalá, 37
Known for: Great tapas for great prices.