Where:
Plaza Doctor Gomez Ulls, s/n
When:
Tuesday-Saturday 10am-7pm
Sunday 10am-2pm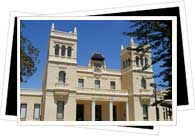 In a nutshell:
Sure, archaeology sounds interesting, but archaeological museums tend to carry an unfortunate reputation for being a bit dull for those of us who aren't full-fledged paleantologists. Well here's your chance to completely throw out that notion! At MARQ, discover the various epochs and civilizations- from prehistory to present day- of Alicante's rich past, but with a unique spin that keeps you both enthralled and immersed in history from start to finish. Gone are the dusty pots sitting behind glass cases. Gone are the lifeless displays. Gone are the boring little placards of incomprehensible language. Instead, imagine admiring those same centuries-old relics but this time set in recreated caves, archaeological sites and sunken Roman ships!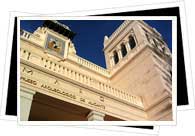 Throw in audiovisual projections, elaborate stagings, computer graphics and the latest technology and you have a comprehensive and interactive museum which doesn't hestitate to combine culture, entertainment, history and present in one engaging package. In fact, MARQ's highly original and intelligent approach to archaeology got it elected European Museum of the Year in 2004!